NOCONEX15!
Call against the militarisation of our lives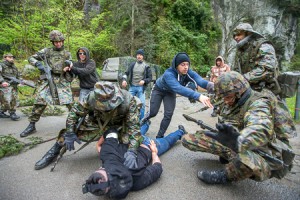 From the 16 – 25 September the Swiss army will be doing an exercise called <CONEX'15> in the North East of Switzerland. This exercise is to prepare the troops for a real emergency situation. While Switzerland and the European Union gladly assist in the drowning of thousands of migrants in the Mediteranean, the exercise in question is filled with cynism; we prepare and learn to defend against a real invasion and which the army gives us a scenario to anticipate:" A Europe of the future, with new countries and new borders, is experiencing an economic crisis. The consequences of this crisis spreads also to Switzerland: limitation of reserves, extension of black markets and criminal organisations. Food, oil and gas stocks become targets for sabotage and pillage. Ethnique tensions bring an increased stream of refugees into Switzerland."
---
Call for a "NoBorder – NoNation – NoConex" Demonstration
Neither borders, nor nations. Sabotage Conex15.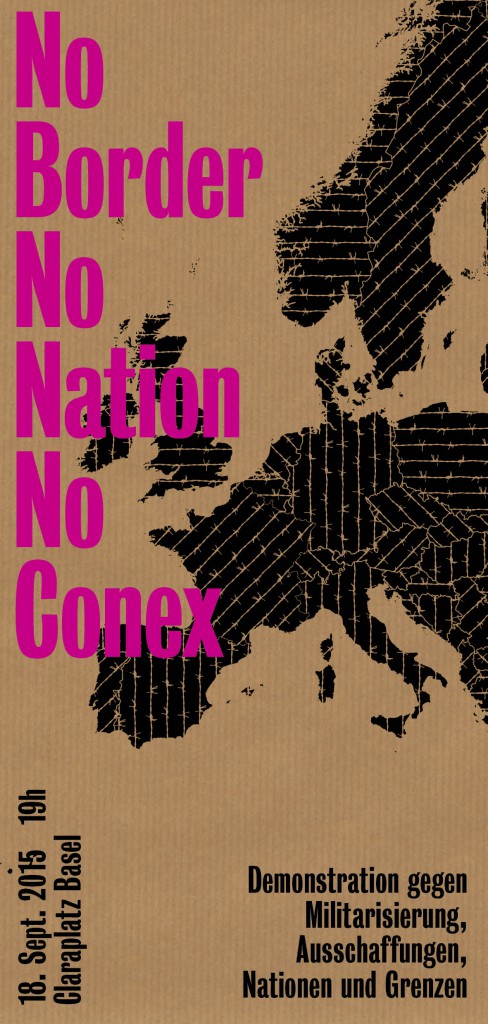 From the 16th-25th of September 2015, a Swiss military training called "CONEX15" will take place in Northwestern Switzerland and formulates the threat scenario as follows: "In a fictional Europe of the future, with new countries and borders, there is an economic crisis. The following consequences also have an impact on Switzerland: supply shortages, a black market, and criminal organizations. Big oil, gas and grain stocks are the target of sabotage and looting. Moreover, ethnic tensions lead to larger refugee flows to Switzerland."
In today's Europe, the economic crisis is driving more and more people into poverty and in part, the most basic necessities of life can not be satisfied. For millions of people there's only one reality: an empty wallet and daily struggles to somehow keep afloat.